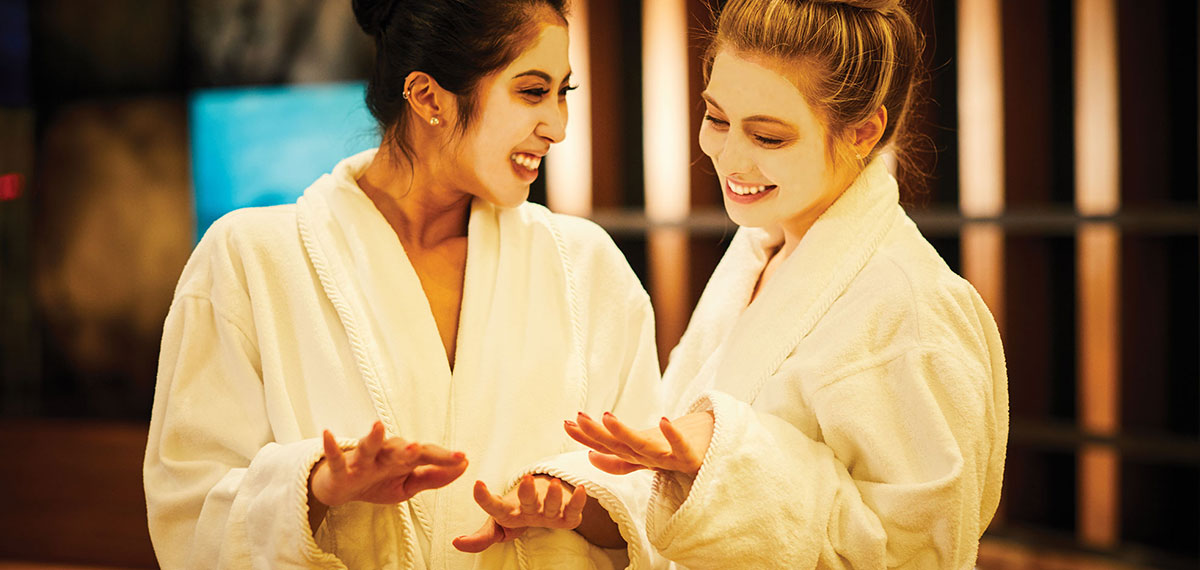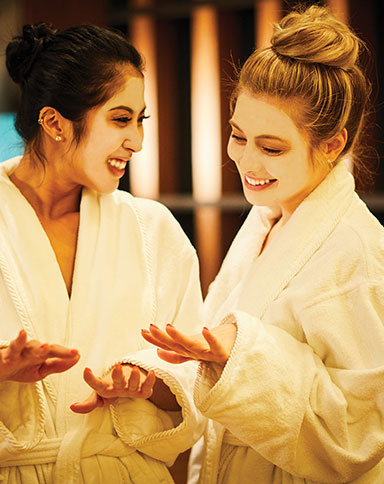 Spa Orleans
Welcome... to the luxurious Spa Orleans, the ultimate celebration of health, fitness and relaxation in a private world dedicated to your every comfort, personal care and pleasure! Here, your mind, body and spirit will become one as you delight in an incomparable spa experience fit for royalty.

At Spa Orleans, you will enjoy an atmosphere of pure tranquility while our experienced and attentive staff pampers you completely. Choose from an inviting array of soothing massages, rejuvenating body wraps and refreshing skin treatments and facials. And allow yourself to be magically transported to an even greater state of serenity with Spa Orleans' extraordinary Signature Services.

The exhilarating feeling of revitalization and well-being will remain with you long after your Spa Orleans experience, as the "new you" is immediately more content, alive and alert!

Our goal is to provide a world that is yours alone... where you are king or queen for a day... and where you will want to return again and again. Enjoy your stay at Spa Orleans!

To reserve a spa treatment, please the call the spa between 10:00am – 6:00pm Thursday – Sunday at (702) 365-7316.
This page links to a PDF (Adobe Acrobat's Portable Document Format). Download Adobe® Acrobat® Reader® DC to read and access this document with enhanced features.
Spa Pass
Buy a Spa Pass now at check-in and save!
1-Day Pass • $35
3-Day Pass • $85
5-Day Pass • $145
Passes expire in 30 days of issue date.
Spa Hours of Operation
Thursday - Sunday
10:00am - 6:00pm
Monday - Wednesday
Closed
Fitness Center Hours of Operation
Spa Policies
Facilities
Spa Orleans offers eight luxurious treatment rooms, a steam room, Jacuzzi, state-of-the-art Fitness Center and full-service beauty and barber shops. Separate spa facilities are provided for men and women, and privacy is always assured. Complimentary beverages are served to every Spa Orleans guest.
Location
At The Orleans Hotel & Casino, 4500 West Tropicana Avenue (at Arville), Las Vegas, Nevada 89103, directly adjacent to the resort's oasis-style outdoor recreation and pool area.
For Reservations
Please call Spa Orleans at (702) 365-7316. Although you should arrive at least 15 minutes prior to your treatment, we suggest that you arrive 45 minutes before hand to enjoy the Steam Room and Jacuzzi. A major credit card is required to guarantee all reservations, and all major credit cards are accepted. No persons under the age of 18 are permitted in the Spa.
Cancellation Policy
If you wish to cancel or reschedule your treatment, we kindly ask for a 24-hour advance notice. If you do not notify us of cancellation or are a no show for your appointment the entire fee (100%) will be charged to your account.
Prices and Gratuities
All Spa treatments and prices are subject to change. A 20% Gratuity will be added to services for your convenience.
Personal Amenities
All personal grooming amenities including hair dryers, curling irons, shampoo, soap, razors and shaving cream, and soft towels are provided free of charge for your convenience, along with showers, dressing rooms and lockers. $25 charge for non-returned locker keys.